IMPORTANT REMINDERS – MARCH 2021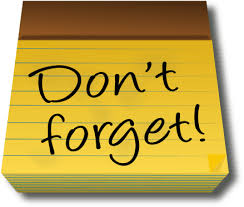 Helping Hands Fundraiser – LAST CALL! 
Our Helping Hands fundraiser is now closing and we need all orders to be submitted no later than this Thursday, March 18th by 5:00pm. This will be the absolutely last opportunity to place your order. 
Please remember that this is mandatory for families who opted in for fundraising (3 item minimum). 
2. Re-Registration Deadline is on March 24th! 
If you have not done so already, please make arrangements to pick up your re-registration packet. All paperwork and re-registration fees are due on Wednesday, March 24th. 
3. Catholic Education Foundation (CEF) Tuition Assistance Application Deadline Coming Up!
For families who are applying for a tuition assistance award from CEF, please make sure to schedule your virtual appointment now as instructed on the application (virtual meeting dates: April 12th or 13th). If you would like to submit your application through the school, you must turn it in by Wednesday, March 24th. 
---
RECORDATORIOS IMPORTANTES – MARZO 2021
1 . Venta de Helping Hands – Ultima Oportunidad 
Ya se termina nuestra recaudación de fondos con Helping Hands. La ultima oportunidad para entregar su orden el mañana, 18 de marzo a las 5pm. Después de mañana, no podremos procesar ordenes. 
2.  Fecha de entrega para re-registración es el 24 de marzo! 
Si no lo ha hecho,  por favor de pasar a recoger su paquete de re-registración. Los documentos necesarios y cuotas se deben entregar a mas tardar el 24 de marzo. 
3. Aplicación para beca de CEF – Se acerca la fecha de entrega!
Para familias que van a aplicar para una beca de CEF, por favor de hacer su cita virtual como esta indicado en la aplicación (fechas para juntas virtuales: 12 y 13 de abril). Si le gustaría entregar su aplicación con nosotros, por favor de entregar todos documentos necesario anted del 24 de marzo.