Thank you for taking interest in joining the St. Thomas family! St. Thomas welcomes students in Transitional Kindergarten (TK) to Eighth grade. We are committed to providing our students with a safe learning environment conducive to academic success and strong faith formation. Join us in creating a blessed community in the heart of Los Angeles, one child at a time.
To learn more about St. Thomas and stay up to date with the admissions process, follow us on the following social media platforms: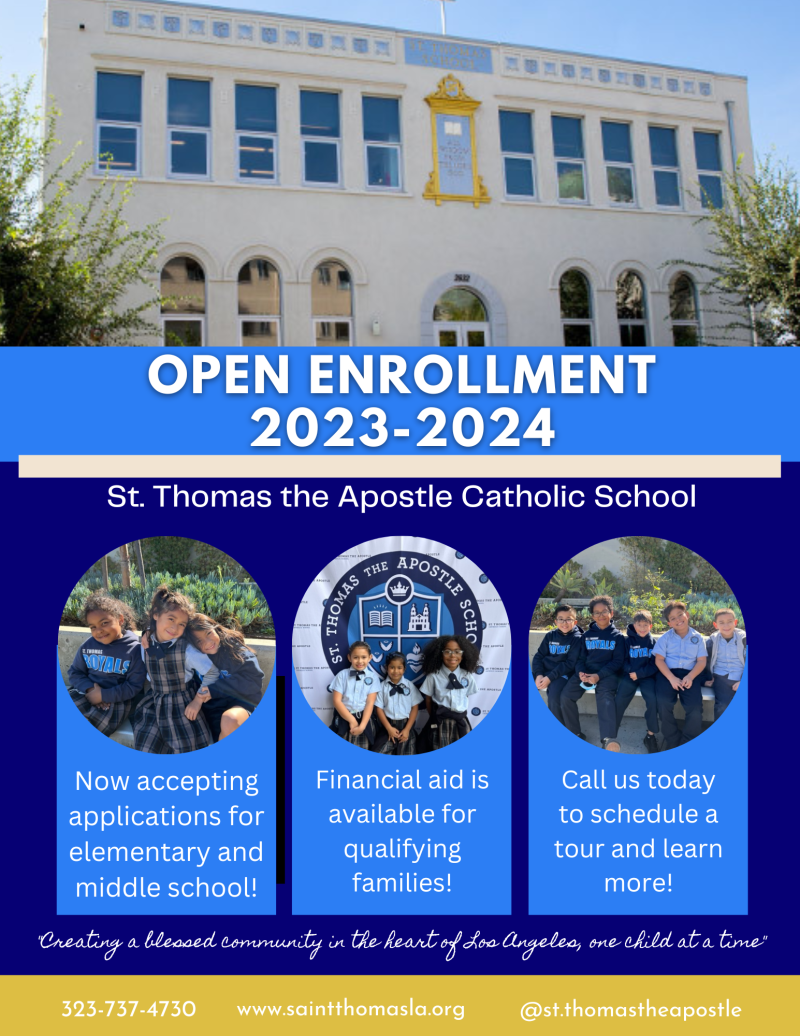 Social Media
Instagram: @ st.thomastheapostle
YouTube Channel: Mr. Cuevas Principal – St. Thomas the Apostle School 
Admissions Information
Applications are available to download on our website and at our school office. Financial assistance is available for those who qualify. If you would like to learn more about St. Thomas the Apostle School please contact the school office at (323) 737-4730. School tours are available by appointment only!
Watch our 2021-2022 Admissions video here: https://www.youtube.com/watch?v=G5QQe4W3XRo
Admission Guidelines
All incoming students are academically tested, their previous report cards will be reviewed, and after a satisfactory interview with a teacher, students will be admitted as follows:
Priority 1: Students whose families are registered and active parishioners of St. Thomas Parish and who regularly attend mass at St. Thomas Church as verified by the use of church envelopes. Current student siblings will also be considered.
Priority 2: If room is available, Catholic students from outside the parish whose families promise to support the school.
Priority 3: If room is available, other students who by their behavior and attitude demonstrate an acceptance of the St. Thomas School Philosophy will be admitted.
WAITING LIST – If your child meets all of the above requirements and there are no available seats in that particular grade, the name will be placed on a waiting list and you will be contacted if a seat becomes available.
Admission to TK, Kindergarten, and First Grade will be determined by priority 1-3 and two factors below.
Transitional Kindergarten – The child must be 4 years old by September 1st.TK Recruitment Flyer
Kindergarten – The child must be 5 years of age by September 1st.
The child must demonstrate developmental readiness and maturity as determined by data compiled as a result of testing, observation, and interview.
Non-Discrimination Statement
St. Thomas School admits students of any Race, Color, National and Ethnic Origin to all the rights, privileges, programs, and activities generally accorded or made available to students at this school. The school does not discriminate on the basis of Race, Color, National or Ethnic Origin in the administration of its education policies, admissions policies, scholarship programs or other school administered programs.