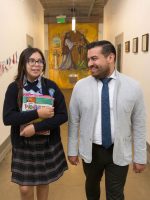 On Behalf of St. Thomas the Apostle School faculty and staff I would like to welcome you to our school website. St. Thomas the Apostle School has a long tradition of academic excellence rooted in the love of Christ since 1908. We are firm believers that it is love that makes St. Thomas the Apostle School someplace special. Love of God, love of people and love of learning are our foundation.
It is through God's grace that we have the courage to live out our mission of "Creating a blessed community in the heart of Los Angeles, one child at a time." It is because of this blessed community of teachers, students, staff, parents, and stakeholders that we are a community who finds their identity rooted in Christ. Our children are successful not because of their natural ability, history or social status but rather in the undying belief of our school community that all of our students are created in the image and likeness of God. It is through this conviction that students meet the high academic expectations that have been set out for them!
We invite you to come visit our school and experience the blessed community in action. Contact me by e-mail or call me at (323) 737-4730.
Peace be with you,
Mr. Adrian Cuevas
Principal