SCHOOL OFFICE CLOSED UNTIL AUG 12TH 
Dear St. Thomas Families:
Our school office is now closed for summer break and will re-open on Monday, August 12th. Below you will find information and announcements that will help you prepare for the first day of school. 
SCHOOL UNIFORM  (*PE uniform to be purchased at school*) 
2019 St. Thomas Apostle Uniform Prices
SCHOOL SUPPLY LISTS & DROP-OFF
2nd Grade Supply List 2019-2020
3rd grade Supply List 2019-2020
4th grade school supply list 2019-2020
5th grade supply list 2019-2020
Middle School Supply Lists 2019-2020
Art Supply Checklist 2019-2020
*** Classroom supplies/donations are to be dropped off in your child's classroom on AUG 15th between 9am-3pm. These include items such as reams of paper, Lysol wipes, and Kleenex boxes. Personal items like notebooks, pencil boxes, and folders can wait until the first day of school. See flyer below.***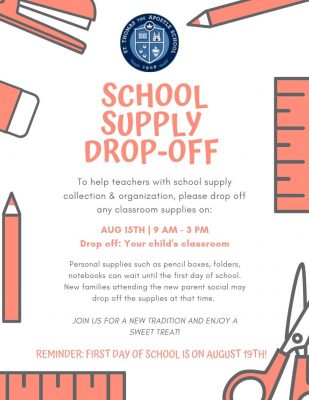 NEW PARENT SOCIAL 
We invite new families join us for a new parent social on Thursday, August 15th from 5:30-7:30pm. Please RSVP by August 12th. See information below. 
FIRST DAY OF SCHOOL 
Our first day of school is on Monday, August 19th. School begins at 7:50am (earlier arrival is encouraged on the first day of school). Dismissal is at 12:15pm ALL WEEK long. Day care is available if needed but parents must complete a registration form. Please see registration information below. 
2019-2020 SCHOOL CALENDAR 
2019 – 2020 School Year Calendar
ENJOY THE REST OF YOUR SUMMER! WE LOOK FORWARD TO WELCOMING YOU ALL ON THE 19TH!