Friendly Reminder: Back to School Night is tomorrow! 
Thursday, September 7th from 6:00pm-8:00pm in the Gym
Dear Parents, 
Just a friendly reminder, our Back to School Night is tomorrow at 6pm in the school gym. Your attendance is very important as we will have a presentation including our principal, counselors, and LAPD Olympic division.
We have also requested addition parking. Our neighbors at Loyola High School have graciously offered to lend us their parking lot located on 15th Street and Fedora. If our parking lot is full, please exit our driveway and make a right into the Loyola lot. Please see map below. We will have security guards there to help you. 
Thank you and we look forward to seeing you all tomorrow!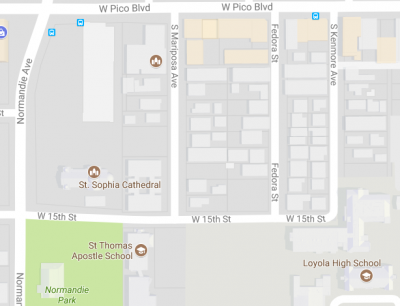 ---
Recordatorio: Junta de Regreso a Clases es mañana! 
jueves, 7 de septiembre 
Queridos padres de familia,
Un amable recordatorio que mañana es nuestra junta de regreso a clases a las 6:00pm en el gimnasio. Su presencia es muy importante porque la presentación incluirá el director, los consejeros, y el departamento de policía LAPD Olympic. 
Ademas, hemos pedido estacionamiento adicional. Nuestros vecinos en Loyola High School nos han prestado su estacionamiento localizado en le esquina de la calle 15 y Fedora. Si nuestro estacionamiento esta lleno, por favor de estacionarse en el estacionamiento de Loyola. Puede ver el mapa aquí. Tendremos guardias allí para ayudarlos. 
Muchas gracias y los esperamos mañana!